BE THE GREEN ENVY OF ALL YOUR NEIGHBORS.
Start composting at home and have the best garden around.
Tumblers are a great option for backyard composting. We offer 3 sizes of tumblers. Call or email us to discuss which will be best for your household.
Once we decide on the best size we will come set up your tumbler and provide a complete Compost Guide that tells you exactly what you can compost.
Tumbler Options
PRICE: $470 +tax (includes assembly and shipping)
Size: 48" H x 37" W x 28" D
Capacity: 33-Gal/2-4 Gal/wk
Volume: 4.5 Cubic Feet
Weight: 64 lbs
Suitable for households of 1-3 people
PRICE: $590 + tax (including assembly and shipping)
Size: 50" H x 44.5" W x 28" D
Capacity: 70-Gal/6-8 Gal/wk
Volume: 9.5 Cubic Feet
Weight: 87 lbs
Suitable for households of 4-8 people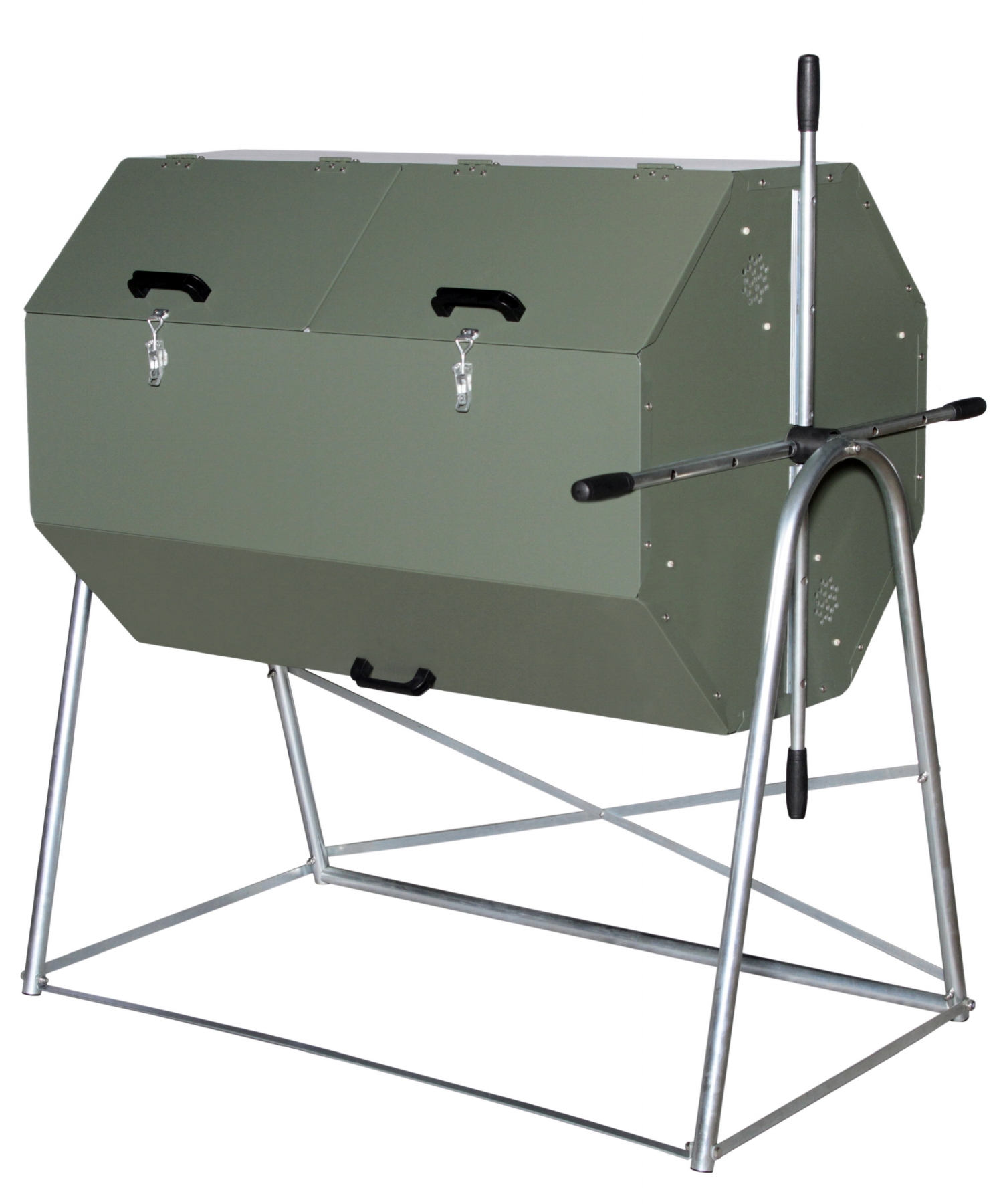 PRICE: $1190 + tax (including assembly and shipping)
Size: 53" H x 55" W x 32" D
Capacity: 106-Gal/13-21 Gal/wk
Volume: 14.2 Cubic Feet
Weight: 167 pounds
Suitable for schools, community gardens & cafes
*additional delivery fees may apply outside of Essex County
Never composted and need a little help?
We're here to help!
Compost Training: $85 We'll teach you everything you need to know so your composting experience is successful and avoid many common mistakes.
Compost Coach: For just $10 a month, we'll continue supporting your composting journey as your coach. We'll guide you virtually and trouble shoot any issues that come up. Contact us to get your coach!
Compost Sifting: $65 Once your tumbler is ready to be emptied, we'll sift the material for you and store it wherever you want.
Lawn and Landscaping Applications: $120 We'll apply your finished compost to your yard and flower beds as a natural fertilizer.
Additional products to make this super easy
Some great gear to add to your compost life.
Wood Pellets: $25 (40 lbs bag) Composting goes down hill fast when you don't have enough browns to balance out your greens (food scraps). We highly recommend using wood pellets with this tumbler (as does the manufacturer). They are highly absorbent and a little goes a long way.
Compost Bucket: $22 (5 gallon- 15 1/4"H x 11 1/2W" x 9 1/2"D) Avoid making multiple trips to your tumbler by using this bucket. Plus, knowing how much carbon material to add is simple and easy when you pre-measure your brown material in your bucket. We'll teach you how. Fits nicely under most kitchen sinks.
Countertop Container: $20 (1 gallon) This lives on your kitchen counter and makes composting easy during meal prep and cooking. Use this in combination with your bucket by dumping it when full. Dishwasher safe. Comes with a secure snap on lid and fit nicely underneath most kitchen sinks.
Compost Thermometer: $35 It's helpful to know what type of temperatures you are reaching in your tumbler so you can know if you need to adjust your ratio of wet to dry material.